May 20, 2020, 10:47 AM EDT
Dexcom's 85% rally this year bests Newmont, Regeneron returns
First-quarter revenue surged 44% compared to the year prior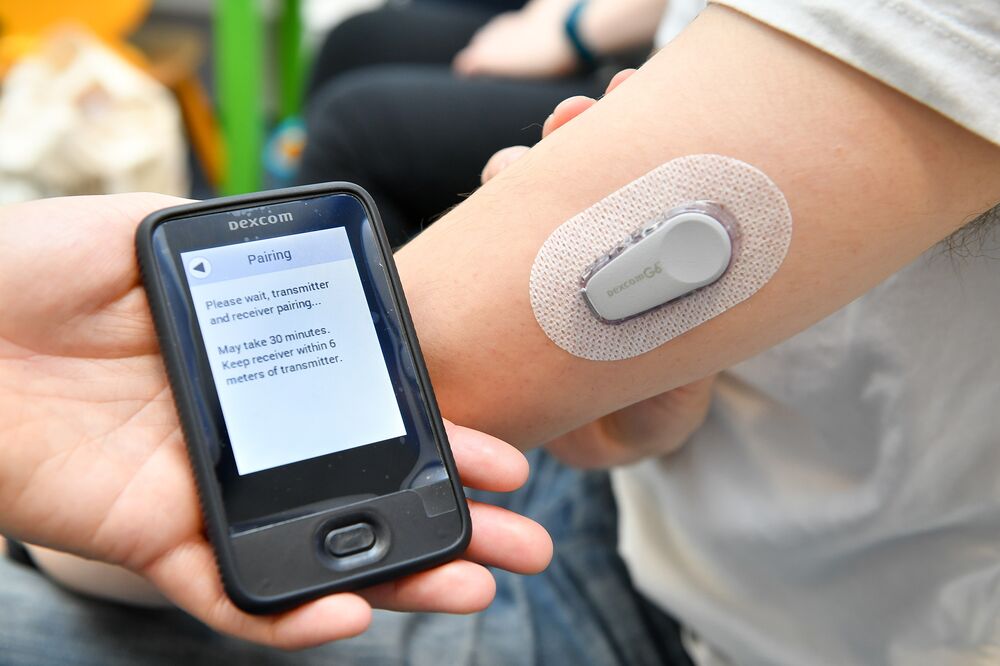 Dexcom Inc.'s recent entry into the S&P 500 gave the benchmark a new leader for the year, dethroning stocks like Newmont Corp. and Regeneron Pharmaceuticals Inc. that have seen share prices surge in the face of the coronavirus pandemic.
The medical device company's 85% rally this year is 30 percentage points ahead of the next four closest stocks in the S&P 500. While Dexcom rose to a fresh record last week after replacing Allergan Plc in the index, the debate for further gains is a hot one.
Dexcom is among the few medtech companies that benefits from Covid-19. Its biggest Wall Street bull, Baird analyst Jeff Johnson, expects the stock to increase another 18% over the next 12 months. Other analysts including the team from Wells Fargo have cautioned that the current valuation matches its position in the fast-growing diabetes management market.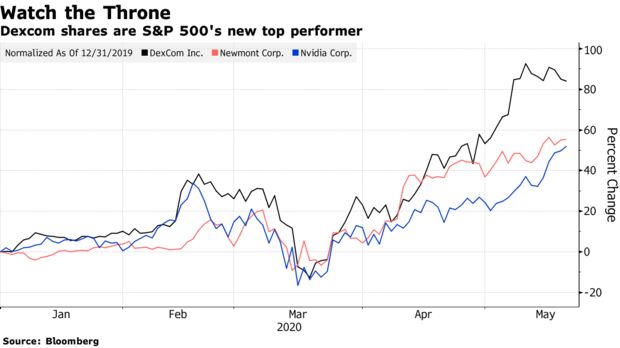 The latest Covid updatesMake sense of the headlines and the outbreak's global response with the Coronavirus Daily. Email By submitting my information, I agree to the Privacy Policy and Terms of Service and to receive offers and promotions from Bloomberg.
Dexcom's continuous glucose monitoring system, or CGM, allows diabetic patients to monitor their blood sugar levels day and night in place of fingersticks. The company's G6 system is a small, wearable sensor and transmitter that sends a patient's glucose number to their smartphone or watch every five minutes. The easy-to-use technology has served as a boon for sales with the company reporting 44% revenue growth in the first three months of the year. https://www.bloomberg.com/graphics/2020-coronavirus-dash/ More from NYC Cases Climb Again; Iowa Reports Record Deaths: Virus Update Sweden Reveals Vaccine Strategy After 26% Reject Immunization Pfizer, BioNTech Near 2020 Vaccine Target, Easing Output Concern Red-Hot Biotechs to Take Spotlight at Blood Disorder Meeting
"It is an expensive stock, but you're starting to see some real evidence that there are incremental revenue opportunities that aren't in models that could emerge over the next few years," Johnson said by telephone. He sees potential for more sales in both Type 1 and Type 2 diabetes due to CGM's "high accuracy, improved convenience."
While the Covid-19 pandemic sent shockwaves through much of the medical technology landscape as elective surgeries were halted, Dexcom has seen continued demand for its products. The fact that diabetics have greater odds of complications related to coronavirus has "driven home the need to get even more diabetes patients on CGM because of the higher risk," according to Johnson.
Read more about the coronavirus's impact on surgeries
The stock's record-setting run has left many analyst price targets in the dust. Tuesday's $404.57 close was higher than all but two 12-month price targets among analysts surveyed by Bloomberg. The average price target actually implies shares will lose 10% of their value a year from now.
Wells Fargo analyst Larry Biegelsen, who started covering Dexcom with an equal weight rating just last week, thinks the next-generation G7 system could drive market share gains next year. The upgraded CGM system paired with international demand and use by patients in hospitals could be significant drivers of growth, Biegelsen wrote. But the near-term opportunities are already reflected in the stock price, he said.
Smaller diabetes stocks have also captivated health specialists over recent years as investors look to cash in on the booming market. Insulet Corp., a $13 billion maker of the wearable and tubeless insulin delivery system OmniPod, has surged more than 580% in the past five years. And Tandem Diabetes Care Inc.'s insulin pump business has fueled its market value surge to $5 billion from less than $20 million three years ago.